Condos in Cincinnati come in all shapes and sizes. There are urban downtown units in OTR,
Kentucky offers floor plans with views of the Cincinnati skyline, and then there are incredible high-rise options in
Walnut Hills with a little bit of both! Unfortunately, these can be hard to find! Luckily for you, we have an exquisite condo that has checked multiple criteria boxes for a number of buyers. 1201 Edgecliff Place, Unit 1043 in Walnut Hills, is seconds from Eden Park and minutes to downtown.
Just why is this condo so special? It doesn't take much selling, but here's a few of our favorite
features:
1.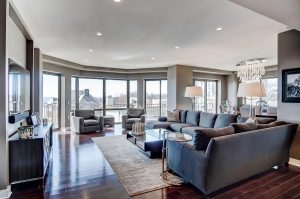 Incredible Sweeping Views of Downtown Cincinnati and the River: Although it might only be on the 4th floor, we challenge you to find a better, unobstructed view! You'll have soaring sights from each room and the three balconies that have views of downtown, up the river and the vistas of Northern Kentucky. While you're not enjoying the view, take a stroll over to Eden Park, Mt. Adams or a bike ride Downtown to Smale Park! The connectivity is truly unparalleled
2. Completely Remodeled: Every inch in this condo has been elegantly crafted and renovated so a buyer can move right in without a worry in the world. Each thought out detail can be appreciated within just minutes of entering the condo. We can assure you that there are few homes in Cincinnati that can rival the workmanship in Unit 1043!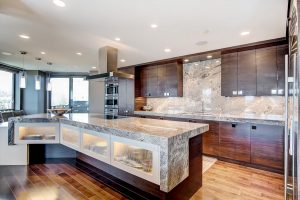 3. Fully Automated, Smart Home: Let's face it, technology makes life easy. And, in 1043, life is as easy as it gets. With a button to control the blinds and another for the lights, there's no need to over exhaust yourself by getting up off the couch! Let your Ipad control your life…but don't let it distract you from the blissful views and elegant environment!
4. Walkability Galore: Whether you're a dog lover or just an avid walker/runner, Edgecliff has what you need. With sidewalks that can get you everywhere from Eden Park to Mt. Adams to Downtown, there's more than enough miles of sidewalks to wear you out. On a rainy day, you can use one of the 3 treadmills down in the gym! Did we mention thatt he Flying Pig and other running events run right by the building?!?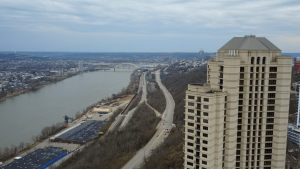 5. Building Amenities that Rival the best Manhattan Condos! Few buildings can rival the condos at Edgecliff Place. Built less than 30 years ago, this fairly new building has every amenity that you can think of. With a full time concierge, gym, Max Welton entertaining house, green space, lobby and maintenance manager, you'll have no need unfulfilled. They'll even change your lightbulbs!!
We could keep going on and on about how great this home is, but I think it's time you come on
through. Click here to see more details on the property and to fall in love…