It's not your parent's real estate market! Not for you Millennial's, anyways. It a world where all kinds of information is at your disposal, you have to be able to sift through the good and the bad.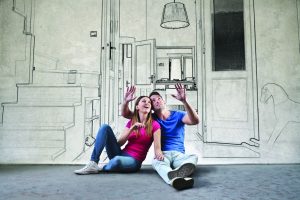 What do I mean by that? Well, there's plenty of fake info out there when searching for a home. Don't be fulled by the Z-estimate type algorithms that trying to over simplify complex valuations or the one click pre-approval websites.
When starting your search, there are quite a few hacks and tips that we'd like to offer ! These are all meant to make your search and the overall process a little easier…
Use Technology Sparingly! Zillow, Realtor.com, Trulia, SibcyCline.com…they all work great! But keep in mind what's good about each. Zillow aggregates all sorts of info into one place, Trulia offers a user experience specific to Millenials, Sibcy Cline or ColdwellBanker.com have comprehensive local data and listings, but each of these are really just search tools. Find one or two and stick to them. If you keep switching amongst tools, you won't become an expert on any of these.
Search Local! In addition to the local brokerage websites, try using the auditor sites or GIS Sites. Hamilton County GIS is one of our favorite (Cagis.org). It allows you to measure parcels, check overlay districts (think Hillside Overlay) and even blend aerial maps and parcel outlines. Also, the auditor's site should be your best friend when reviewing comps and taxes. Don't be afraid to lean on your Realtor here. This is where their expertise can shine!
How bulky is that savings account? Lets change gears to your dinero! Buying a home often comes with a hefty downpayment. BUT, there are special financing products that allow you to put less down. Open up that online bank account and take a look at where you stand. This will be helpful information to pass on to your loan officer so you can talk intelligently about your best options. Side Note: We wouldn't recommend loan website's like Rocket Mortgage or Quicken Loans. Most times, they don't offer the best products because they can't really get to know you by just answering a few questions!
Get Help! Unless you've bought a home before, we strongly encourage you to find a Real Estate agent to trust! Buyer's agents typically get paid by the Seller of a property. Their commission is built into the list price so hiring your own Realtor is a VERY good idea. You need someone to explain the process and go to bat for you so you don't make a bad decision.
To understand how to get started in general, you can download Build Cincinnati's Millennial Guide to Buying a Home.  [download id="2310″ template="First Time Buyer"]It's short, sweet and right to the point.
Wire Fraud – In a day and age where everything can be done online, we most cautious when wiring funds. We're jumping ahead quite a bit since wiring funds doesn't normally happen until the closing, but it's important to mention. Wire Fraud is prevalent and you need to be careful. NEVER wire funds before you call the title company to verify the wiring instructions. You'll want to confirm all of the details because emails can be hacked!!
Buy for today, but think of tomorrow!
Lastly, think about how long you're planning to live in your home. If it's a 2-5 year time frame, the size of the home and the mortgage product should match. Maybe you go with an adjustable rate loan for a condo that you only plan to be in for a few years. However, if it's your "forever" home, maybe you should look at something for your future, growing family with a 30 year fixed loan to go along with it!
So, as you get started, don't just jump in. It never hurts to keep an eye on new listings of course, but have a plan for buying. Whether you're looking to build, buy or renovate, a plan will keep you from making any rash decisions. And, when in doubt, call an expert. Pick their brain and verify with the 100s of tech tools and websites at your disposal!