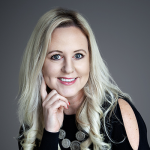 Brandi Schildmeyer
Resale Specialist
A little about me
I came to Cincinnati in 2005 and spent 13 years delivering the news on 700WLW. After a 20 year career in radio, I decided to move on to the next chapter; helping people moving to Cincinnati, and those who already know what a great city it is, find the perfect place to live.
I have a true passion for houses; from the styles and structures that make them unique, to the individuals and families who make them homes. Finding the right fit should be exciting, not stressful. I want to use my knowledge and communication skills to guide as many people as I can on this adventure.
Other Facts:
I live in St. Bernard with my husband, Chris, children, Callie, Sam and Madison and our three dogs, Hank (St. Bernard), Teddy Bear (Malamute/English Cream Retriever) and Sophie (Lab/Border Collie).
I coach volleyball at St. Clement.
I graduated from the University of Alabama.
I LOVE big dogs and spicy food.
Please reach out if you want to talk about buying or selling a home! You can call me at 513.675.6816 or drop me an email at [email protected]