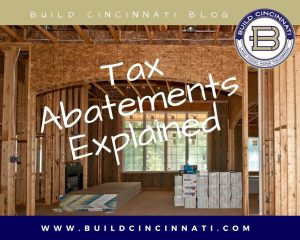 If you've been living in the City of Cincinnati, chances are you've heard about the tax abatement for new construction and remodeled homes.  Unless you've been living under a rock, of course.
But, do you really know how it works??
Here's a little crash course on the tax abatement and why it's been such a driving force in the Cincinnati residential real estate market…
As you may know, when you build, add-on or invest in your home, your property taxes can and, most often, WILL go up!  This is obviously true in the City of Cincinnati  as other municipalities
, but there is a special little incentive for those looking to invest in the City 
(all 52 neighborhoods)
.  The 
Cincinnati Community Reinvestment Area (CRA) Residential Tax Abatement, as it's called, offers property owners the ability to minimize their tax implications.  This means that any improvements will NOT significantly add to your property tax bill.  You would only pay on the amount of "pre-improvement" value, up to certain levels.
Let's give a few examples:
Example 1: You purchase a home or lot in Walnut Hills.  The value of that existing property is $100,000.  If you then build a $400,000 Leed Gold Certified Dwelling (we'll get into the LEED certification below) on the property, you would only be taxed on the $100,000 for 15 Years. The remaining $400,000 would be abated for those years thus saving you around $8,000 per year!
Example 2: You own a home in Oakley assessed at around $250,000 and have decided to add on to the back of the home.  The renovation will cost $150,000.  That entire amount would be tax abated for 10 year.  It's only 10 years as opposed to the 15 year new construction abatement because of the regulations.  This still saves you almost $3,000 a year for 10 years.  That's almost $30,000 in savings!
So, how do you do this? First off, you'll want to call a professional (a builder or us at Build Cincinnati) that understands the tax abatement and construction process.  You determine what the best plan of action is for your house or lot and then review the abatement guidelines at the link below.  Once construction is complete (and have an audit from a LEED professional if you did a LEED Home), you'd need to submit your application to the City with the necessary documentation, which includes an improvement spreadsheet, Certificate of Occupancy, LEED audit and a few other miscellaneous documents.
Now, the secret sauce: LEED Certification.  The City of Cincinnati is one of the BEST places to build a LEED certified home because it saves you even more money.  If you look at the link above, you'll see that this energy certification has tiered savings based on the certificate level.  As you'll see,  LEED Silver allows for up to $400,000 abated, LEED Gold is up to $562,000 and LEED Platinum is UNLIMITED.  
Of course, LEED comes with it's extra building cost, but that's specific to the home you build and how much money you can spend! Be sure to choose a builder (S
hameless Plug ALERT…like Classic Living Homes, Walker Homes, Ashford Homes, Quest Homes, Legendary Homes) that's knowledgable on the process because this will prove invaluable.  Also, an excellent resource on the subject is the Green Building Consulting in OTR.  They have spearheaded the LEED process for many of our client's homes.
Now that you're armed with this information, doesn't building and remodeling in the City sound that much better! Not only can you design a home specifically for you and your family, but you can save money in the process!
For more information on the Tax Abatement, feel free to reach out to our Build Cincinnati team members at
513-686-7676
.