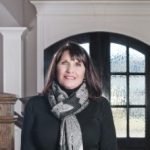 Marilyn Hines
A little about me
Hi Everyone! I'm Marilyn.
Wonderful to be a team member with the Build Cincinnati Team – Coldwell Banker! You could say the real estate bug has been in my blood since age 6 or 7. My Father was a real estate agent with Century 21 in Cleveland. So I did the folding of letters, stuffing of envelopes and was his little helper. My uncle built homes of various designs. Needless to say our family was part of that operation too.
Was born and raised in Cleveland, Ohio. Attended & graduated Holy Name High School and Cleveland Community College. Afterwards, I worked selling motors and generators with a Chemical & Engineering Firm. My territory covered two states and then was offered additional territories.
I moved to Cincinnati, Ohio where I met my husband, William. Have three wonderful grown and successful children. Have 1 daughter, Sheila and two sons, Mike and Robert. Also have a 10 year old golden retriever, Princess, who is just sweet and adorable. Almost all of them (kids) are part of the Build Cincinnati Team. During their school years was very active with every committee, fashion show, charitable group possible. Ha, I even coached their tennis team for a few years.
But my true calling was for the real estate industry. In the back of my mind I always knew I would return to doing something that involved real estate. Happy to say I am living my passion. I've been in the industry over twenty + years helping my client's achieved their dreams and goals. Pride myself in keeping up with the current market and trends.
However, there are many other hobbies I enjoy. Such as: Gardening! I love gardening. When spring comes, my hands are in the dirt planting flowers and herbs! Every day first thing in the morning that is where you will find me.
Love travelling and discovering new places and cultures of people around the world. Have a few vices too! My second passion should have been a food and wine blogger. Being Italian food and wine was what brought the family together. I truly enjoy wine tastings and even belong to a wine club.
When I get a chance to relax you can find me curled up reading a book or the latest novel and mystery story. Enjoy going out to the newest restaurants and to the movies too.
But most of all I love the opportunity to work with my family in this amazing real estate business.
LOL……Hoping for grandchildren down the road too…….