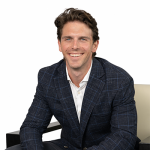 Michael Hines
Team Leader
A little about me
Hello! My Name is Michael Hines and I am Co-Founder and Lead Agent of Build Collective, a top 10 Cincinnati Real Estate Team with Coldwell Banker Realty, focusing on land, teardowns and new homes!

Quick Facts:
I grew up in Real Estate and have been in the industry since 2007
Not in charge at home…My Wife, Kids and Dog run the show!
Surrounded by the best teammates in the business.

You might say we have a family company here at Build Collective. Yes, there are three folks with the last name of Hines (my Dad, Bill, and Brother, Bob), but we're all family. In fact, 4 of us have been working with each other for over 10+ years and I'm not embarrassed to say that I'm not the one with the most experience. That's the power of our team. And, each new addition, makes our family grow and become that much stronger!

For those of you that don't know me personally, I am lucky enough to have 2 and a half incredibly awesome kids, Poppy, William and TBD. (hopefully, I won't forget to update this and give TBD a name as he/she is due in March 2021) My Wife, Logan, is much stronger, wiser, and (insert brownie point adjective here). I am blessed to have this crew by my side each day!

I have been in the real estate industry my entire life. Growing up with a Developer as a Father and Mother as a Real Estate Agent, you could say that it's in my blood. I start off with glorious titles like Chief Weed-whipper and Top Curb Shoveler and loved every second of it. Learning the business from the ground up has given me a well-rounded understanding of the ins and outs of what it takes to develop and source land, build & of course, sell homes.
Since the early days, I've been blessed to travel long and far, but eventually came back to my roots in Cincinnati to specialize in what I love, the sales and marketing of new construction and development.
It's a long story, but I won't bore you with all of the details so here's the cliff notes version: I attend Miami University for undergrad and loved every second of it. After graduating in 2007, I started worked for my Father's development firm, Hines-Griffin Land Development in Sales & Marketing. We were lucky enough to be a part of TPC at River's Bend, Grace Meadows and SanMarGale during that time. Unfortunately, the Great Recession came upon on and the real estate development world came to a screeching halt.
Through the adversity though came opportunity. During the downturn, I was lucky enough to spend the slower real estate days at the University of Cincinnati obtaining a MBA. That opened doors to do some traveling to South Africa and intern with a mobile media firm focusing in Real Estate. In 2010, after realizing that my heart was in Cincinnati, my Father, Bill, and I joined forces again to start Build Collective, then known as New Homes & Land with Coldwell Banker.
The market looked a lot different then, but our focus was the same then as it is now. To be the best sales, marketing and land acquisition team in the area. We did that by leveraging his past experience with innovative tactics to always stay ahead of the curve.

Since those days, the market has improved drastically! We've expanded to our scope to include most every neighborhood along the I-71 corridor. We've had the privilege to sell well over $250,000,000 in real estate in just the past couple of years and have some of the best clients on the planet. As the market continues to evolve and become ever more complex, we're here to stay on top of the change, deliver results and always be advocates for our clients!
Awards:
New Home Sales Team of the Year 2016 - 2020
Most Listings in Cincinnati
Circle of Excellent 2013-2020
Rookie of the Year – Coldwell Banker West Shell 2011
Presidents Club
Top 1% of Agents with Coldwell Banker Global