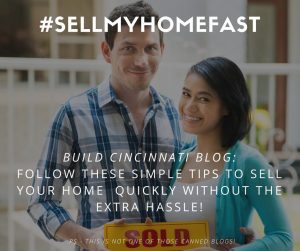 It feels like Spring. So, lets start acting like it! After all, the market sure is! Over the past 2 months, the market has been on fire and listings are selling faster than ever. But the secret to success is not just slapping a home up on MLS and tossing a sign in the yard.
Before you list your home, there's a simple checklist that you should work through to make sure you put your best foot forward. No, we're not talking about staging the house or remodeling. We're talking about the practical, quick fixes that can make your house shine in just an afternoon!
Here's our Build Cincinnati's must-do list:
Mulch – If you're about to list your home, immediately go to Home Depot to grab a few bags of mulch. In an hour, you can spruce up the curb appeal drastically with just a few bags of mulch and spreading them around the beds.
Flowers and Grass Cutting – You don't need a green thumb to make your house stand out. It's all about the photos on the internet that attracts people into you home. So, the more color and orderly your yard looks, the better you'll compare to your competition. If all else fails, call your local landscaper!
De-clutter We all have too much stuff! This is just life, unless you're a true minimalist. Our solution: grab a few boxes and start to shovel some of the extra personal items in there. These can be knickknacks, photos, cluttered wall art, magazines, or anything else that catches your eye. The motto 'less is more' is key when prepping your home for photos and showings!
PURGE! Chances are you won't be taking everything with you when you move. So start the purge now. Grab a garage can and start to remove the items now. This will make the move more manageable when that time comes.
Act like you don't live there! This is the hardest task. We understand that life pulls you in different directions and kids/animals aren't always cooperative. But, keeping your house clean and tidy is key to putting your best foot forward for every showing. So as you leave every day, try to emulating a Pottery Barn catalog best you can!
Now, we could name 100 others quick fixes, but we've found that time is normally tough to come by when you're planning to sell your home. In an effort to make the preparation process manageable for you and other Sellers, these items should be the top priority rather than getting side tracked by other glitzy sales ideas!
And, if you have time to spare once these items are complete, we can always make a few other recommendations!
Happy Selling!