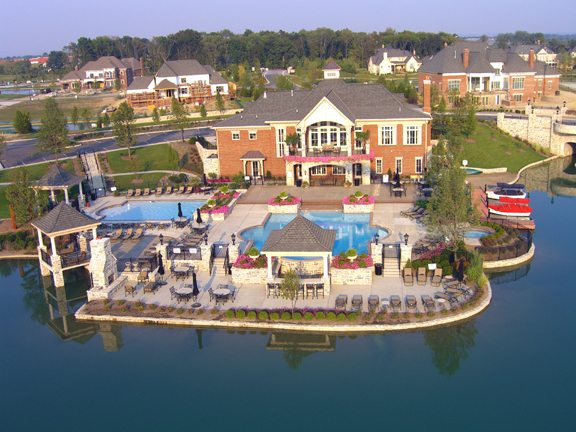 Let your mind wander for a moment…Where does it take you with these two descriptive statements:
• Artfully crafted waterways meandering throughout picturesque custom estates.
• Magnificent stone entry and expansive masonry bridges carrying residents to a luxurious pool and clubhouse compound.
Sound like Naples, Florida?! What if I told you it's right down the street in Deerfield Township. Yep, I'm talking about Long Cove. If you're familiar with Southwest Ohio and Cincinnati neighborhoods, you've undoubtedly heard of Long Cove. It's a true one of a kind community developed by Rhein Interests in the early 2000s. Their grand vision has become a reality over the past decade and is now home to some of the happiest residents in the area.
And, we're excited to launch the newest addition to Long Cove – Capeview Lane! This new entrance way (off Snider Rd) is complete with it's own guard house and masonry entrance. Sidewalks connect you to the waterways, club house and miles upon miles of walking trails.
Capeview is a truly unique opportunity to deliver a new price point of home for the Long Cove community. Buyers can build an exceptional new home with Classic Living Homes starting in the $800,000 range. This is a true bargain considering that the homes in Long Cove and on Capeview routinely sell for $1,000,000-2,000,000!
If you're skeptical, I encourage you to take a drive through the community. You'll quickly learn that Long Cove separates itself from the pack very quickly. Here's the cliffnotes on why it's so great!
1. Incredible entry ways, stone bridges and calming waterways.
2. Strict building guidelines to maintain quality and exceptional homes
3. Private pool, clubhouse and playground
4. Convenience to Interstate 275, 75 and 71 not to mention Deerfield Town Center is across the street!
5. Steady and above average home values.
6. International design community praise!
7. Highly Rated School District – Mason City Schools.
So….Drink the Kool-aid! Long Cove is where you should build your next home. Or at least, tell your friends to!
For more information on lots and homes, visit longcove.net.