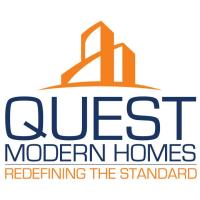 Quest Modern Homes
www.questmodernhomes.com
Quest Modern Homes is a custom home builder serving the greater Cincinnati and surrounding areas. Quest provides complete design/build homes to owners who care about sustainability and non-conformity in a world dominated by cookie-cutter designs and HOA-run subdivisions.
No Restrictions, No Limits, No Cookie-Cutter Designs
Quest prides itself on constructing homes without restrictions. Our homes are only limited by our customers' vision and budget; and our design/build specialists can help stretch both to their very limits. Using the very latest materials, along with plenty of steel and glass, we are able to create open floor plans with plenty of natural lighting and modern finishes that are sure to make a statement. Our homes can be constructed with sustainable materials and we try to make our homes as energy efficient as possible, which will save homeowners money in the long run. When you want a modern home design that is uniquely yours and that stretches the limits of design and functionality, your first and only choice should be Quest Modern Homes.
Your Quest Modern Home Awaits
Quest wants to make your dream home a reality. By combining the efforts of our architects, builders and designers, along with your own unique vision and value systems, we will construct a modern home that your family is sure to love.