Home Highlights:
Price: $1,500,000
Size: 7000 Ft. (includes basement and guest suite)
Lot #: 35
Lot Size: 1.30 Acres
With only a few months until Homearama 2018, the team behind Sterling Homes' Modern
Farmhouse is excited for the droves of people to descend on their newest home and their
fellow builder's homes! This home promises to be one of those special properties that you'll be
talking about long after you leave. You might have heard that before, but after we share with
you the inspiration, design and homes features, you'll be ready to move to Heritage at Highland
Hill.
Now, if you haven't heard about the show this year, Homearama is July 7-22nd at Heritage at
Highland Hills in Mason, Ohio. It's on the north portion of Columbia Rd before Route 42 in a
community that's nearing completion as a development! That means very little construction
going forward!
This years show features 10 homes by 6 different builders each priced over $1M. Our favorite
(no bias, of course) is Sterling Homes' Modern Farm Home. The Dream Team of Sterling Homes,
Mary Cassanelli Architect, Design's on Madison and Build Cincinnati have come together to
design a home that's exquisite in every way. Here's just a few things that you should start to get
excited for: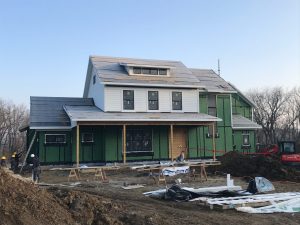 1. Exterior Design: A powerful and well-crafted exterior is all about the details! The
designers of this home focused on each element to create a modern farmhouse that
rivals the best on Houzz! With timber posts, white board & batton, slate stone as the
accent features and a metal roof, this timeless design will be a quick favorite!
2. Letting the Indoors In! Imagine walking into your expansive living area with the ability
to let the outside elements in! With a wall of windows and doors that stretch over 40' ft
along the back of the house. If you're into entertaining, this is the space for you. On a
beautiful Summer Day, open the doors and let the fresh air and fun inside! Or invite 30
of your favorite friends for a grill out and fire out in the back!

3. Guest Suite: Whether you love your in-laws or can't escape them, you can become the
son or daughter of the year by offering your Guest Suite. This separate suite with it's
own entrance is perfect for the sporadic guest or the long term family members! And
don't worry, they'll have their own kitchenette and full bathroom for plenty of privacy!
4. The Little Big Touches: One of our favorite parts of the homes are the accent elements!
The rustic beams that span the great room allow the warmth to sneak in, while the
interior brick along the back walls creates a vintage farm house feel. The combination
of elements creates a cozy, inviting element for the entire family.
5. Incredible Foyer: Welcome your friends in with towering 20' foyer ceilings. The
impactful entry combined with the gorgeous craftsman, wood doors will be sure to
impress your closets friends and family!
Sound like a home you could move in to? We thought so!
As usual, Homearama will be full of incredible, sometimes over the top, design trends and
features that make for an excellent show. However, if you're ready for some soft and warm
elegance with a timeless design and longevity, this Sterling Home will hits the bullseye.
Come by and See us at the Show!