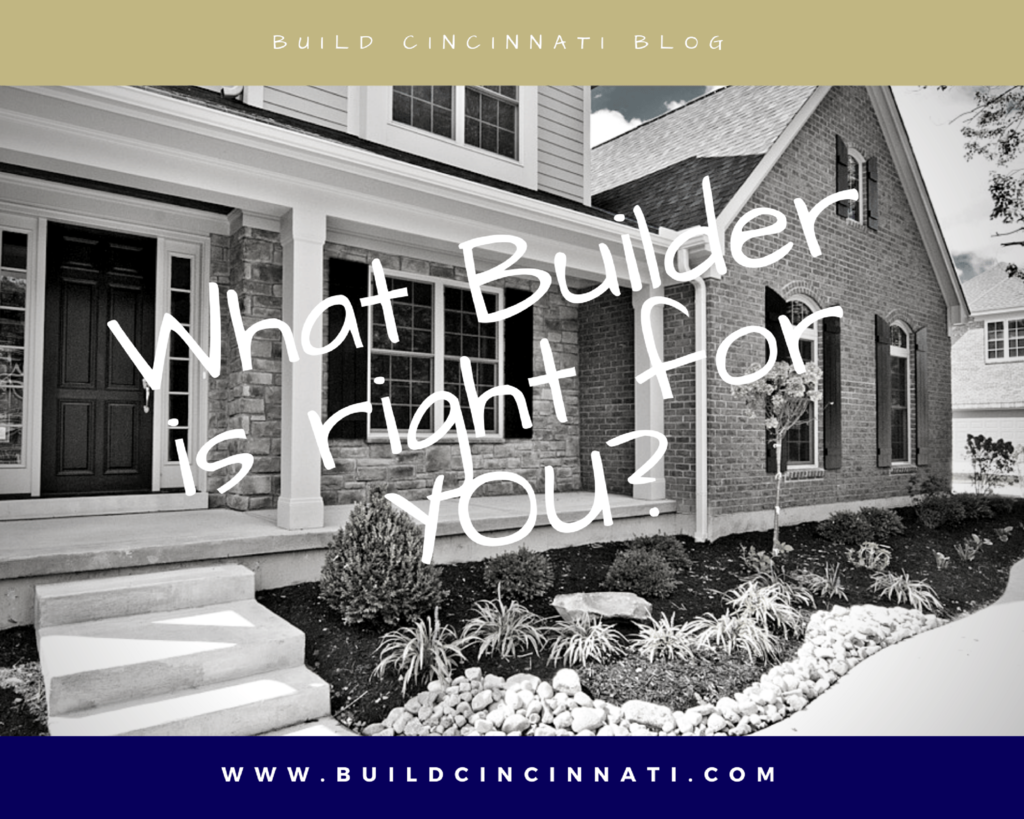 October 17, 2016
Key Takeaways:
There are three different type of builders in Cincinnati and most markets: Production, Semi-Custom and Custom Home Builders.
Market Homes (or Spec Homes) can be great options for those that don't have time to build a home.
Before you select a Builder, find a LOT! The lot often dictates which builder you can use.
____________________
Anyone that's built a house or dealt with a builders can tell you this simple fact: All builders are not created equal. This is not meant to be critical of any certain builder, but to realize that each has it's own strengths and weaknesses.
When any member of our Build Cincinnati team meets with a client, we ask a series of questions to help determine which Cincinnati builder would be the best choice for them.  We come in with no preconceived notions or agenda (Build Cincinnati representing 12 builders in different capacities and working routinely with virtually every Cincy builder), but rather, our first step is to evaluate their needs and find out what's best for them!  Here's a sample of where we start…
What area of town are you looking to build?
What is your budget?
What type of lot are you looking for?
How involved would you like to be in designing your floor plan?
In selections, do you like to choose between 2-3 options or unlimited options.
What is your timeframe?
These questions help us determine which Builder type is right for you based on their process.  The three most common types of builders are Production Builder, Semi-Custom Builder and Fully Custom Builder as outlined below.  
Ok, so you might be saying what does this mean and how does it affect me?  Well, below is a quick synopsis of each type of builder so you can see why it's important to choose the right one for you.
Production Builders – These are the most identifiable names in Cincinnati new construction:  Fischer Homes, MI Homes and Drees.  You'll find them in traditional communities with a few different floor plan options with a defined price range and a variety of selections.  They can build homes in the $100,000 range all the way up to $800,000 in some cases.  They are a fantastic choice for buyers looking for a particular neighborhood, house type and easy-to-price house.  Over the course of an afternoon, you can select a plan & lot and know exactly what it costs!
Semi Custom Builders – Another type of builder that's common in neighborhoods as well as infill lots* are Semi-Custom Builders.  These builders have dozens of floor plans, but have the ability to customize the house to a buyer's needs.  Also, they tend to allow for more selections.  In areas such as Montgomery, Madeira, and Loveland, Semi-Custom Builders reign supreme.  They allow buyers just enough choice to truly enjoy the building process without becoming too overwhelmed! A few examples of semi-custom builders are Zicka Homes, Ashford Homes and Lucke Homes.  They have selection showrooms that some Buyer's truly enjoy since it creates a one stop shop.  Of course, the term Semi-Custom might not always be accurate for these guys as they occasionally offer the Custom experience as well.  
Custom Home Builders – If you're the type of person that would like to design a home specific to their needs and put their touch on every item in the house, a true custom home builder is who you should be talking with.  One of our custom builders (Classic Living Homes) is a little biased and always makes that comment "the best homes always start from scratch".  These buyer sit down with an architect and their ideas and in the matter of 90 minutes, will have a 1st floor drawn out just for them!  It's not nearly as daunting as some expect, especially with guidance from their builder, architect and our Build Cincinnati advisors.  The fun part comes with the selections.  You can choose from as many items as you'd like (as long as they match your budget!).  Builders like Classic Living Homes, Walker Homes, Quest Modern Homes, Cedar Hill Custom Homes and High Pointe Custom Homes are some of the best Custom Home builders in town based on our client's reviews.  
As you're deciding between these different type of builders, NEVER select your builder until you know where you want to be.  Lot and area can make the builder selection for you.  
And remember, if you don't have the time to wait for a home to be built, there's often homes already under construction.  We call them Market Homes.  You might still be able to make flooring, cabinet, and lighting selections (amongst others) to put your touch on a brand new house for you!
So, as you search for the builder that's right for you, think about the process and how involved you'd like to be. And don't forget to call Build Cincinnati to get things started so you don't start off on the wrong foot or waste any money!!
Infill lots – Lots that are found in areas like Montgomery and Madeira where there is redevelopment and teardowns.  These are different from traditional communities in that they are done on a smaller scale, often times 1 lot at a time.